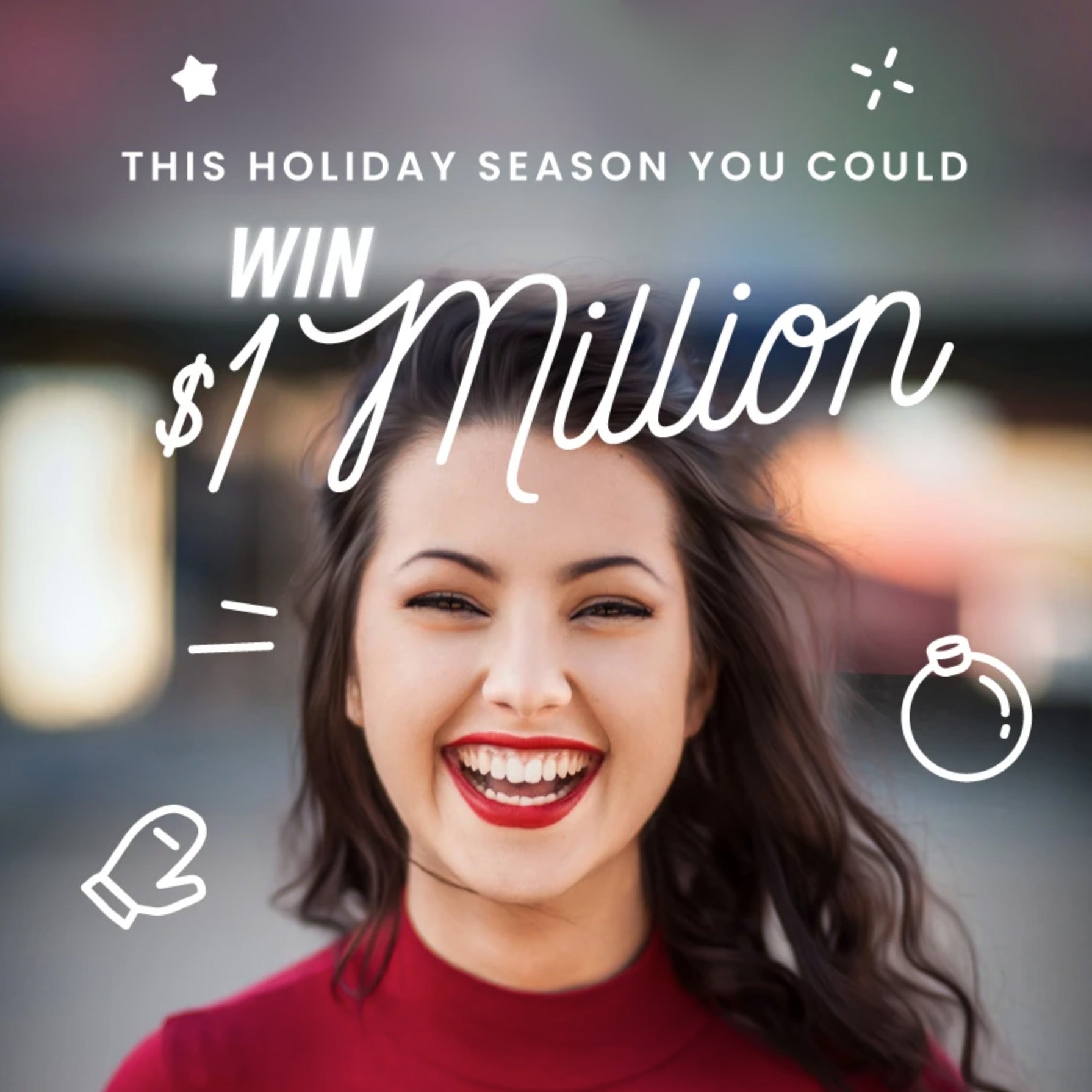 $1,000,000 Cash Giveaway - 2020

(Yes, One Million Dollars!)
Enter now to win $1,000,000 CASH to spend however your heart desires. Whoever wins this pile of money will discover a new kind of freedom.
Enter to Win.
Random Winner is Drawn.
This giveaway has ended
Want your shot at being a millionaire?
Now's your chance.

Last year, we gave one lucky winner $600,000. This year, we're going even bigger, because 2020 has been tough for so many.

$1,000,000 is going to change one winner's life. Will it be you?

Now, we don't want to tell you how to spend your new chunk of change, but if you were looking for some ideas, we asked our One Country community what they would do if they won $1,000,000, and the answers didn't disappoint:
- Pay off student loans
- Buy a sailboat
- Pay medical bills
- Buy a lot of tacos
- Move to the beach
- Retire debt free
- Take that dream vacation
- Live!

Ultimately, the choice is yours... though $1,000,000 worth of tacos does intrigue us.

P.S. If you want to see some of our past winners, click here!

All contributions made to One Country go toward helping us achieve our mission of building a community of givers and doers who come together when our country needs help most. From feeding the hungry to disaster relief, every dollar contributed gives us all the opportunity to change more lives. Learn more here.
Select Your One-Time Entry
Select your one-time entry amount below. The more you entries you purchase, the greater chance you have at winning.
This giveaway has been closed. The winner will be selected soon.
See All Winners
FACT: 1 in every 6 kids in the United States goes to bed hungry every single night.
That's where YOU come in
One Country is engaging this problem head on. A portion of proceeds from this giveaway goes to fighting childhood hunger.
Legal
Winner: You ("Winner")
Timing: Jan 20th 2020 through midnight Dec 31st 2020
Location: Your Mailbox
Sponsor: One Country ("Sponsor")
Prize Provider: One Country ("Prize Provider")
Details:
Winner will receive USD $1,000,000.
Sweepstakes Start Date: January 20th, 2020
Deadline to Enter: December 31st, 2020 at 11:59pm CST
Winner Announced: On or around February 17, 2021
Retail Value: $1,000,000
Who's Eligible:
You must be at least 18 years old to win. In certain countries, local rules and laws may restrict or prohibit the award of certain prizes or impose additional restrictions on participation. Entry is subject to all local laws. See our Giveaway Official Rules for more details. Employees, officers, and directors of Sponsor, Charity, or Prize Provider, and members of their immediate families and households, are not eligible to win.
Individuals may not receive more than one major/grand prize and one minor prize within the same 18 month period. Alternative Method of Entry
How to Enter:
Visit onecountrygive.com to utilize any of our methods of entry.
Selection Process:
Conditional Winners will be chosen through a random selection process by One Country. Odds of winning depend on the number of tickets held. A verification process will take place during which conditional Winners will be required to sign paperwork re-confirming their eligibility and their ability to participate on given dates. One Country may also perform background checks, at its discretion, before an official Winner is announced.
NO PURCHASE, PAYMENT, OR CONTRIBUTION NECESSARY TO ENTER OR WIN. Contributing will not improve chances of winning. Void where prohibited.
Read More
Read Less