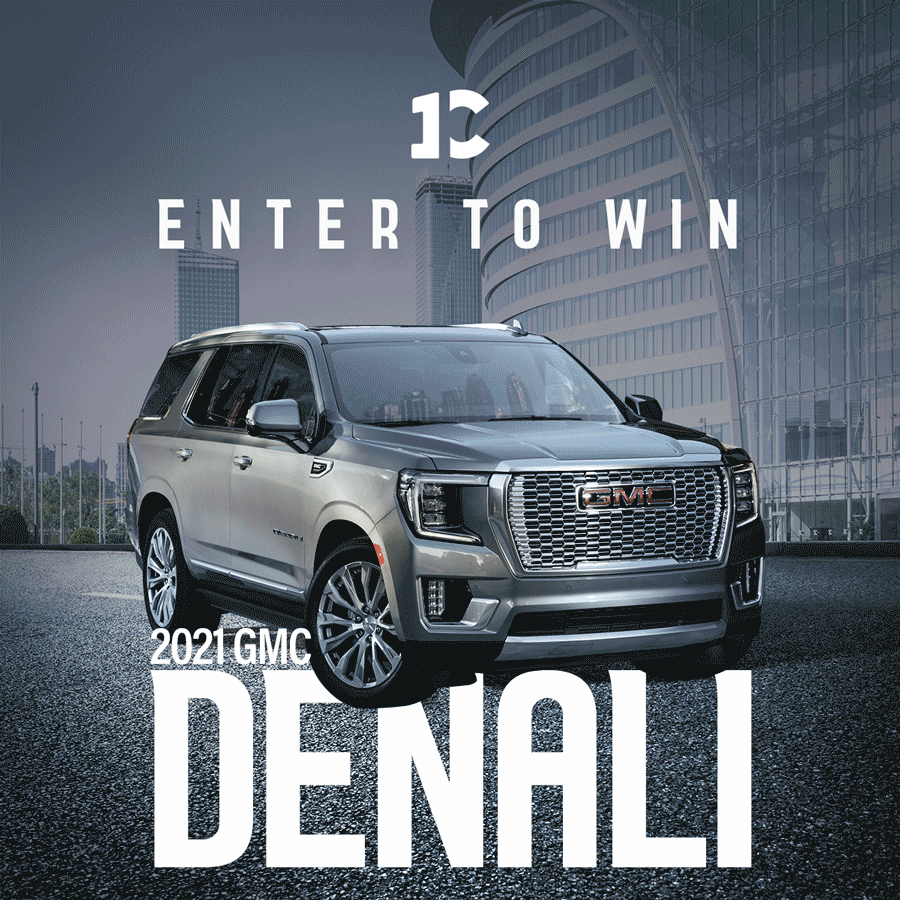 Win a 2021 GMC® YUKON Denali
Enter now for your chance to drive away (with up to 7 passengers) in an all-new 2021 GMC Denali Yukon SUV, complete with... well, just about everything you could ever need. And then some.
The powerful 6.2L V8 engine is paired with a 10-speed automatic transmission to offer best-in-class 420 horsepower and 460 lb-ft of torque. From the luxurious Denali-exclusive interior design, premium leather seating and coordinating authentic wood accents to the signature Denali grille with a satin-chrome finish that creates 10,000 reflective surfaces, this is a SUV that's filled to the brim with detail and style. Not to mention, it comes complete with the latest and most advanced safety features, like 9 camera views and a 15" diagonal Head-Up display that projects vehicle info to your windshield.
This is where the rubber meets the road. Literally. Enter now for your chance to win.
This sweepstake is not sponsored, endorsed, or affiliated in any way with GMC and its affiliates.
Giveaway has ended.
Enter to Win.
Random Winner is Drawn.
The most advanced SUV for work and play.
6.2L V8 Engine with Best-in-Class 420 hp

460 lb.-ft. of Torque

10-Speed Automatic Transmission

Denali-Exclusive Instrument Panel

All-New Denali-Exclusive Interior Color Themes

Class-leading Available Power-Sliding Center Console

First-in-Class Available Four-Corner Air Ride Adaptive Suspension

All-New Available Active Response 4WD System

Class-Leading Available 9 Camera Views

Class-Leading Multicolor 15" Diagonal Head-Up Display
FACT: 1 in every 6 kids in the United States goes to bed hungry every single night.
That's where YOU come in
One Country is engaging this problem head on. A portion of proceeds from this giveaway goes to fighting childhood hunger.
Legal
Winner: You ("Winner")
Timing: December 1st 2020 through midnight January 31st 2021
Location: Your Mailbox
Sponsor: One Country ("Sponsor")
Prize Provider: One Country ("Prize Provider")
Details:
Winner will receive a 2021 GMC Yukon Denali OR USD $100,000.
Sweepstakes Start Date: December 1, 2020
Deadline to Enter:January 31, 2021 at 11:59pm CST
Winner Announced: On or around February 10th, 2021
Approximate Retail Value: $100,000
Who's Eligible:
You must be at least 18 years old to win. In certain countries, local rules and laws may restrict or prohibit the award of certain prizes or impose additional restrictions on participation. Entry is subject to all local laws. See our Giveaway Official Rules for more details. Employees, officers, and directors of Sponsor, Charity, or Prize Provider, and members of their immediate families and households, are not eligible to win.
Individuals may not receive more than one major/grand prize and one minor prize within the same 18 month period. Alternative Method of Entry
How to Enter:
Visit onecountrygive.com to utilize any of our methods of entry.
Selection Process:
Conditional Winners will be chosen through a random selection process by One Country. Odds of winning depend on the number of tickets held. A verification process will take place during which conditional Winners will be required to sign paperwork re-confirming their eligibility and their ability to participate on given dates. One Country may also perform background checks, at its discretion, before an official Winner is announced.
NO PURCHASE, PAYMENT, OR CONTRIBUTION NECESSARY TO ENTER OR WIN. Contributing will not improve chances of winning. Void where prohibited.
Read More
Read Less